Thinking about becoming a Pharmacy Tech? You should be – it's an amazing career, and we're sharing how to become a Pharmacy Technician here.
A career in the medical field is a rewarding one, but long years of medical, pharmacy, or dental school are not for everyone.
That doesn't mean working in medicine is out of the picture, though, especially when you can become a pharmacy technician! The best part? You'll still have the satisfaction of helping people each and every day.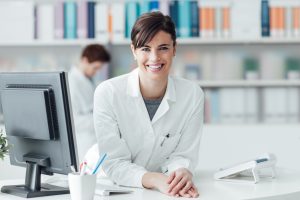 How To Become A Pharmacy Tech is here to help you understand what you'll need to do to become a pharmacy technician and enter an incredible career helping people.
We've put together this helpful guide (and others like it) to keep you informed and make this process as easy as possible.
How to Become a Pharmacy Technician
If you want to get started on becoming a pharmacy technician, there are a few things you'll need to do before you can get down to business.
Enroll in the Right Courses
When you have a goal to become a pharmacy technician, you will want to go into your new job knowing as much as possible.
This means you'll have to enroll in the right courses and become knowledgeable on the medicines and technologies you'll be working with.
Not all pharmacy technicians attend a physical school (there are plenty of online schools available), which makes getting into this field easy if you already have a busy schedule. Earning your title as a pharmacy technician can take a few months or a year to complete, but they'll be done on your own time.
While you're studying, you'll be learning about biology, math used in pharmacies, pharmaceutical terminology, laws, ethics, and medications.
Specific classes offered through pharmacy technician programs can include pharmacy administration, pharmaceutical calculations, anatomy, medical terminology, and pharmacology.
Sponsored Ad
Become Certified
Becoming certified is a huge part of being a pharmacy tech that you should focus on achieving. There are two widely accepted pharmacy tech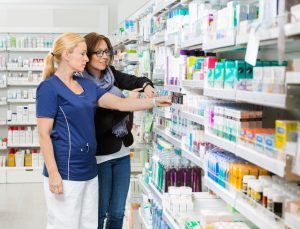 nician certifications available in the United States.
The Pharmacy Technician Certification Board has a certification that emphasizes advanced patient safety. Getting this certification will earn you the Certified Pharmacy Technician (CPhT) credential. We help you on your way to passing the PTCB exam here.
Similarly, the National Healthcare Association has a certification program for pharmacy technicians that's known as the standard for our field.  The test, called the ExCPT, will recognize you as a certified pharmacy technician that's well-versed in the requirements of the job.
Since you will be working with people throughout the day, knowing how to safely distribute medication is key. You will have to be able to help the patient understand their dose, regimen, and what drugs they can also safely take.
You'll start learning all of this information while you are taking your courses, but going through certification will be able to validate and test your knowledge.
Work With on the Job Training
Here's a truth about the medical field: we can learn a huge amount of information in the classroom, but the rest of your education happens on the job.
Depending on the requirements within your state, once you finish your certifications and courses, perform well at interviews, you'll soon begin to work at a pharmacy. Here's where you can really commit to working with your pharmacist to better your skills.
With each customer and case, you'll learn about drug interactions and how to best advise people to maintain their health.
Depending on what pharmacy you are hired with, they may have training programs for you to complete as well. This additional training is priceless and lets new pharmacy technicians understand the culture of their pharmacy and the needs they will have to fulfill.
There's no need to wait. Become a pharmacy technician and get your new career started!