A recent study shows that 85% of the U.S. public believes that it is "very important" for pharmacy technicians to be certified.
In fact, the same report goes on to say that three-quarters of respondents would actually seek out a pharmacy where the pharmacy techs are certified.
If you're looking for a career as a pharmacy technician, then the Pharmacy Technician Certification Board certificate is definitely a must-have. To get that all important certification, you'll need to study a lot of information and prepare for the examination, and the best way forward is with PTCB study guides.
Pharmacy Tech Duties
Okay, there's a good chance that if you're reading this, you already know just what a pharmacy tech does, but in most cases it may be more than you realize.
Under the supervision of a pharmacist, you will:
Supply medicines to patients, whether on prescription or over the counter
Assemble medicines for prescriptions
Provide information to patients and other healthcare professionals
You may also manage areas of medicine supply such as dispensaries, produce medicines in hospitals and the pharmaceutical industry and possibly supervise other pharmacy staff.
These places of work could be in a community pharmacy or hospital, drugstore – think CVS or Walgreen's, pharmaceutical production or sales in the pharma industry, prisons, primary care organizations, military or veteran pharmacy and other pharmacy organizations.
We're going to give you our pick of the Top 5 PTCB Study Guides for 2017.
The Top PTCB Study Exam Guides for 2017
Mizner is a pharmacy technician educator, so as you'd expect, the book is comprehensive and includes a number of extra study aids.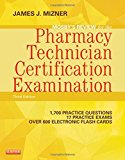 The is the most popular PTCB study guide currently available. The information is well written, easy to understand and clear.
It features 7 practice exams within the book and a further 10 online, but it also has test-taking tips, strategies for when you're unsure of the answer and digital flash cards.
Key features include:
Suggestions and tips to prepare you for test-taking; helpful strategies and information
Convenient outline format – allows you to quickly review the important information relating to the exam
Over 600 electronic flash cards that cover everything from the top 200 drugs to medical abbreviations
Latest information on HIPPA and the Medicare Modernization Act along with other recent pharmacy law
This latest edition really is the go-to PTCB study guide, a great all-rounder and a must have if you want to pass the exam first time round!
Sponsored Ad
This is the third edition, but "all-new", or at least has nine new chapters that match the examination framework.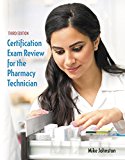 The sole purpose of the book is to help you pass the exam at the first attempt.
It avoids extraneous material that won't be included in the test, and includes 5 complete practice tests, each with 90 multiple choice questions, designed to replicate the three-hour exam experience. A bonus of 3 math tests and 2 drug tests are included.
Of course, the book comes with all the answers and thorough explanations, meaning that even if you aren't sure, you can reach a point of understanding quite easily.
While the book has many great reviews online, we should also add that more than one person has commented on the typos in the book, in particular in the math section.
Another all-new 3rd edition.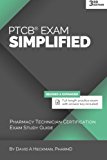 This guide is more of an all-rounder, along with one full-length practice test, it features sections on pharmacy math, pharmacy law, and the top 250 prescription drugs.
With a bold claim of "The best test preparation money can buy", it has to be good.
Key features include:
Full-length practice exam with a detailed answer key
Current content based on the exam blueprint
Charts, illustrations and tables to aid learning
Top 250 prescription drugs, top 45 over the counter drugs and thirty herbal supplements
The secret to solving nearly any pharmacy math problem
Pharmacy law highlights
Step-by-step guide to interpreting prescriptions
We find that many students struggle with the math associated with being a pharmacy tech.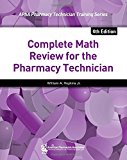 This PTCB study guide is primarily aimed at the math behind the pharmacy technician role. It includes over 850 practice problems with explanation and a 101 question practice test.
Key features include:
Covers every topic related to pharmacy calculations
The PI Challenge; more than 75 questions challenging the students ability to interpret information
Medication Errors and Clinical Challenges: The ability to recognize medication calculation errors
More than 100 advance practice questions, more than 850 practice problems
101 question 'post-test'; a real world problem that a pharmacy tech may encounter
Mometrix are known for their comprehensive stock and catalog; the largest of any test preparation publisher.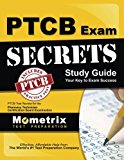 This PTCB study guide offers easy reading summaries, highlighting the key areas of the test.
It has all the critical information that you need to ace the PTCB exam, including concepts, principles, procedures and vocabulary.
A most comprehensive guide with the following features:
In-depth review of the PTCB exam, including a breakdown of the different aspects
A guide to conversions
The analysis of stock held in a pharmacy
Overview of safety precautions
Breakdown of brand name and generic meds
Comprehensive pharmacy technician certification practice questions, all with in-depth detailed explanations
The Mometrix study guides also offer:
PTCB Exam preparation
PTCB Study manual
PTCB Test preparation book
PTCB Review book
Conclusion
However you choose to study and learn, there is a wealth of information right at your fingertips.
Keep in mind to get your CPhT title from the PTCB, you must:
Have a high school diploma, or the equivalent of from a foreign institution
Be 18 years of age
Provide a disclosure of any criminal actions against you and any State Board of Pharmacy registration actions or licensure actions taken in the past against your license
Agree to comply with all the PTCB Certification rules, regulations and policies
With one or two of the guides listed above, along with your determination and focus – you're well on your way to becoming a Certified Pharmacy Technician.