As someone looking into the Pharmacy Technician career field and wanting to understand exactly what it involves, you may encounter a variety of  job descriptions. For the most part, you will see pharmacy technician job descriptions as follows:
Pharmacy technicians are health care workers who assist a licensed Pharmacist in order to perform pharmacy-related tasks.
This statement is an excellent summation for the definition of a pharmacy tech.
Nevertheless, let's break this statement down to help make sure you understand the full meaning:
Pharmacy – also known as pharmaceutics, is the science and art in the preparation and dispensing of medicine and drug products.
Technician – a person who is a specialist in the technical aspects of a particular subject or occupation.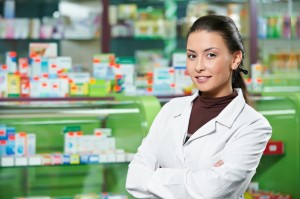 Health care worker – a person who works for an organization that provides various health care services for the prevention or cure of diseases.
Direction – the management or guidance of another person or thing.
Licensed pharmacist – a person who is professionally qualified to dispense of prescription medication to patients and to offer advice on use of medicine. They must have a Doctor of Pharmacy (Pharm.D.) and be licensed within their state.
Pharmacy-related tasks – includes responsibilities that are crucial to keep a pharmacy operating efficiently, including: precisely and efficiently preparing prescription requests, processing insurance forms and claims, maintaining proper storage of medicine in inventory, entering patient orders into the computer system, answering patient phone calls, assisting customers with answers to simple questions and ordering medical supplies for stock and more.

Taking each part together – you should now have a clear understanding of what pharmacy technicians do.
Working with the direction of a pharmacist, your duties typically include receiving and dispensing prescription medicine, packaging prescription bottles, measuring and counting pills or tablets, and administrative tasks such as answering the phone, ordering supplies, stocking inventory shelves, and processing insurance claims.
Sponsored Ad
What You Should Know Before Becoming a Pharmacy Technician
Also known as pharmacy tech or the more formal title, pharmaceutical technician – holding this position, you have an obligation to maintain high standards of conduct and integrity as you will be accountable to your supervising pharmacist.
Requirements for becoming a pharmacy tech varies in each state.
However, all states to some degree require their technicians to be in compliance with applicable local, state, and federal laws regarding the pharmacy technician practice.
This goes along with being of good moral character – which is another attribute that is typically expected upon your pharmacy technician registration with the state.
You may also be required to complete a criminal background check.
Should you decide to become a Certified Pharmacy Technician (CPhT), you will certainly be held to the highest standards by the governing organization of your certification.
Any type of conviction or drug-related violation may potentially result in disqualification of your hard earned credential.
At all times you must provide high quality services to those in need of medication in some form or another, the supervising pharmacist and your fellow pharmacy techs in regards to all pharmacy activities.

What is the Allied Health Profession?
As a pharmaceutical technician, you are a part of the "Allied Health Profession". The allied health profession consists of approximately 200 health-related careers. As a part of this large group, your focus is on the health of your patients, either directly or indirectly to provide critical healthcare services.
You are considered to be an expert in your area of health. Examples of other careers within the allied health profession include:
Dental hygienist
Audiologist
Paramedic
Nuclear medicine technologist
Orthoptist
Perfusionist
Cardiographic technician
Art therapist
Medical assistant
Neurophysiologist
Plebotomist
Physical therapist
Dietician
Respiratory therapist
Surgical technologist
Esthetician
Many of these professions require special skills by getting training through earning a degree, certification and/or continuing education (CE). While some other professions do not required specific education or training.