Are you thinking about becoming a Pharmacy Technician?  If so, you've come to the right place. You can provide a valuable service in your community by serving the needs of others who are in need of prescription medication by performing various pharmacy-related duties working with a Pharmacist.
The great thing about working in this allied health profession is that every state in the country is in high demand of pharmacy technicians.
With the right education and/or experience, getting the job you want should be very attainable.
Your prospects for employment are very good – more so if you successfully complete formal training and get a national certification.
According to the Bureau of Labor Statistics, job growth rates expected between 2010 and 202 for the pharmacy technician career field is as high as 32%.
Pharmacy Technician Requirements
Understand that the requirements to work as a pharmacy tech varies by the state that you live in. Before you begin on your journey to become a pharmacy tech, make sure that you understand everything that is required of you prior to applying for registration or a license in your state.

Requirements vary broadly acro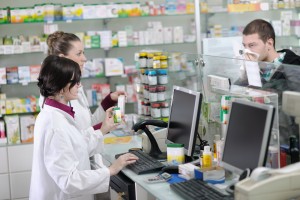 ss the country. Some states only require a minimum of a high school diploma or GED, while others require you to have earned designation as a Certified Pharmacy Technician (CPhT).
You will also need to understand your state's training and continuing education requirements – both before and after you register as a pharmacy technician.
Certain states mandate that you only receive training from a state-approved pharmacy technician training program. Other states may just require that training is completed on-the-job with the pharmacist in charge.
Renewals of your registration typically occur annually or biennially – again this varies by state. Fees for registration and renewal ranges between $25 and $150.
To find out what the requirements are to become a pharmacy technician in your home state, click the state on the map or the table below.



Keep in mind that the pharmacy technician career is also great way to enter the healthcare field.
Learning about the many types of medications and helping people with their medical needs is a great starting point where perhaps you can move on to become a nurse, pharmacist or a physician.

Sponsored Ad