Are you preparing to be a Pharmacy Tech? Amazing – we're here to help. These 5 Pharmacy Technician interview questions (and answers) will help get the job.
You've decided to become a pharmacy tech – congrats!
Demand for this particular career field has been growing year over year – up 9%, higher than average.  Although you might've just graduated from school and feel anxious about joining the workforce, don't worry.
It's definitely an employee's market out there. Around 40% of employers are saying they struggle to find the right person for the job.
That puts you at a huge advantage! You've got the right stuff and you're going to head out into the wide world to prove it.
Applying for a job is easy, getting called back is a little harder, and landing an interview can be difficult. Anxiety during an interview is incredibly common.
Interview jitters affect a startling 92% of the population. That's pretty much everyone!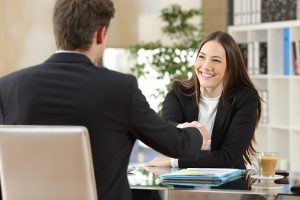 You might feel unprepared to answer your pharmacy technician interview questions.
But lucky you – we've got the guide that's going to help get you prepped and ready for that very important meeting with your potential new pharmacy.
Why Do You Want To Be A Pharmacy Tech?
This question is so simple, you might not even expect it, but be prepared if it comes up during the pharmacy technician interview questions.
When answering this question, keep in mind the real reason why you wanted to become a pharmacy tech. Don't give a canned answer or talk about perks; make sure they understand your primary motivating factor.
This is a perfect place to add an anecdote. Make it personal so they know you're in it to win it, not just "because".
Not quite sure how to answer this question? Make sure you are very familiar with the top 10 duties of a pharmacy tech. Before your interview, think about how your interests and skills relate with at least some duties in the list.
Sponsored Ad
Customer Service Is Key
Pharmacy techs have to be the face of the pharmacy. It goes without saying that you'll have to deal with a customer issue or two.
This pharmacy technician interview question is designed to figure out who can deliver exceptional customer service under pressure.
They want to know they're hiring someone who can resolve a conflict, keep their cool, and use their communication skills.
You'll really want to focus on this question – it's almost guaranteed to show up.
Do You Play Well With Others?
Conflict doesn't just come from interactions with irate customers – you need to demonstrate that you're a team player.
As a pharmacy technician, you'll be part of a team, usually working in somewhat close quarters. You'll have difficult customers on one side, your teammates on the other, and work that might be a touch repetitive in the middle.
Are you going to be a valuable addition to the team – or a hindrance? Make sure you demonstrate all of your group experience so your interviewer knows you're ready to fill any position on the team.
Answering The Dreaded 'Strengths And Weaknesses' Question
This isn't just limited to pharmacy technician interview questions; everyone going for a job ends up trying to answer this one.
It's one of many interviewers favorite questions – and it's important you've got the right answer ready to go. When talking about your strengths, elaborate, but don't ramble.
A good idea is to talk about what your favorite part of your job is and how you excel at it. Give an example of how this strength was an asset for a previous employer.
Regarding weakness, it's cliche to say "my greatest weakness is that I work too hard" or some variation. Be honest – but spin it in a positive way.
For example, maybe you work a little slower than others because you double and triple check your orders. This demonstrates your commitment to quality and to ensure your work is error-free.
An Eye For Organization
Pharmacy techs face an exciting – but fast-paced job.
You'll be multitasking, filling orders and dealing with the front desk. You'll have to keep up with customers and help your teammates at the same time.
Most important of all – you'll need to make sure each order you fill is precise and correct. There is no room for error when it comes to medicine.
No doubt all of this drew you to the profession, but interviewers want to know how you're going to handle the pressure. If you haven't dealt directly with pharmacy technology or computer systems, talk about all of the other ways you keep organized.
Demonstrate you have the organizational skills that prove you're an asset they can't afford to pass up.
Go Ace Your Pharmacy Technician Interview Questions!
Now that you've got an insider's view of what's going to come up during an interview, you're ready to rock and roll. Best of luck during your job search. With these questions on lock, you're going to do great and be well on your way to becoming a Pharmacy Technician!