This article has been updated for 2017! Please click here: Top 5 PTCB Study Guides for 2017
Looking to pass the PTCB exam in order to get certified as a Pharmacy Technician? The PTCB (Pharmacy Technician Certification Board) exam is required by most states in the US as part of the qualification to work as a Pharmacy Tech.
To help you pass this all-important exam, you'll want to have in your arsenal at least one of the top 5 PTCB study guides for 2016!
After all of your hard work passing your pharmacy tech classes and meeting specific state requirements, won't it be a great feeling to pass the PTCB exam, thereby earning you the designation of Certified Pharmacy Technician (CPhT)?
Getting certified by the PTCB typically means you will have both more opportunities for jobs and a higher income.
If you take the leap to earn this designation, you'll show potential employers that you are dedicated to the pharmacy technician field, while also giving yourself pride in knowing you are very capable at your job.
Thus, a good PTCB study guide(s) is an investment that is well worth it! Preparing with a study guide can help make a big difference in your test score and also give you confidence as you take the exam – giving you the boost you need to become a pharmacy tech.
We've pulled together a list of our top 5 PTCB study guides for 2016 – please see below:
The Top 5 PTCB Study Exam Guides for 2016
1. PTCB Exam Study Guide 2015-2016: PTCB Exam Study Book and Practice Test Questions for the Pharmacy Technician Certification Board Examination by Trivium Test Prep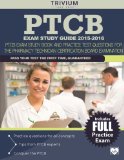 This book includes both a guide and actual practice test questions that will cover each of the subjects areas contained in the 2016 PTCB exam. It provides a very detailed overview along with 100 practice questions to give you the preparation that you need to pass the test.
It also includes great test-taking tips and strategies to help increase your exam score!
Features of the exam guide includes:
What the PTCB certification exam is all about
How pharmacy techs provide assistance to Pharmacists
Math calculations and measurement units section
Drug listing
Maintenance of medicines and inventory systems
PTCB practice exam questions
Background on the PTCB Certification Exam
Sponsored Ad
2. Mosby's Review for the Pharmacy Technician Certification Examination, 3e by James J. Mizner BS MBA RPh

Mosby's Review for the Pharmacy Technician Certification Examination remains one of the top best PTCB exam guides available. Written by Mr. James Mizner, who is an educator for pharmacy techs, you won't find many other books authored by someone who is very well regarded in this field.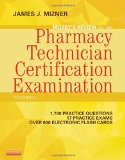 This book, in its 3rd edition contains everything you need to pass the PTCB examination on your first try. The guide includes study materials on all of the exam content, as well as outlines, strategies, test taking-tips and digital flash cards.
Each chapter of the guide aligns with a domain knowledge required for you to know and understand. The structure of the book allows your to practice in sections – permitting you to increase your understanding in blocks of information.
Included in the exam guide are the following:
1,700 review questions within 17 practice exams
700 digital flash cards to increase your recall of facts about medicines, sound-alike drugs, and abbreviations
7 practice exams in the same format and knowledge domain of the exam
Suggestions and test taking tips to increase your success rate
and much more!
3. PTCB Exam Simplified, 2nd Edition: Pharmacy Technician Certification Exam Study Guide 2nd Edition by David A Heckman, PharmD
Another PTCB exam guide that is consistently ranks among the best is the PTCB Exam Simplified, 2nd edition. This guide focused on the key elements as shown in the PTCB exam blueprint. It has been expanded and updated from the original version.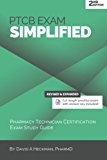 The author of the guide developed it to help you to learn how to solve questions by giving lots of practice questions and real-life scenarios. This combined with a full-length practice test and answer key provides a very effective and practical method to prep for the exam.
The book includes the following:
Simple guide to interpreting prescriptions
Secrets and tips to solving many pharmacy math problem
Visualization guides using tables, drawing and charts
List of the top prescription drugs, over the counter (OTC) drugs and herbal supplements
Review of pharmacy law
Another great selection of PTCB exam guides is the Secrets of the PTCB Exam Study Guide book. It provides all of the content that you need to pass the exam, including practice test questions and answers with detailed explanations. 
This exam guide provides the following:
An overall review of the PTCB exam
Hospital settings overview
Brand name and generic medications overview
Safety precautions overview
Conversion guide
Thorough practice questions and answers
Click here for a free preview of the Secrets of the PTCB Exam Study Guide
5. Complete Math Review for the Pharmacy Technician 3rd Edition by William A. Hopkins, Jr., PharmD
Many people have a fear of math – are you one of them? If so, you certainly want to increase your skills and confidence for all the calculations and conversions techniques that you will need to know how to perform. Why not get a book that speaks specifically on pharmacy calculations?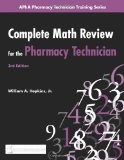 The Complete Math Review for the Pharmacy Technician thoroughly covers all topics related to number that you will need to pass the exam. It contains over 750 practice problems along with answers and solutions.
This book is smart to include to help you pass the exam the first time!