Have you always wanted to be a pharmacy technician? Working under the careful eye of a licensed pharmacist, a pharmacy technician provides exemplary customer service to patients and family members.
This critical healthcare team member performs many different duties within the pharmacy.
The skills you learn by taking pharmacy technician classes will enable you to do your job efficiently and effectively.
To become a technician, there are many steps involved – depending upon the state you live in, including taking pharmacy technician classes to acquire experience and often certification as a pharmacy tech.
Overview of Pharmacy Technician Classes
There are many different types of pharmacy technician classes available on the web. These classes cover the basics of what it takes to succeed as a pharmacy technician.
Most pharmacy tech courses help you develop the skills that you need to develop strong customer service ability, knowledge in healthcare management including pharmacology assistance, and to provide you with a background in documenting and dispensing medications.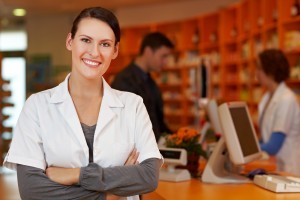 A good pharmacy technician program will include:
Classes that teach information on dispensing and documenting various medicines.
Courses on inventory in the pharmacy, and provide you with solid knowledge on manufacturing and packaging in a healthcare and pharmacy setting.
Provide you with competency in pharmaceutical conversions, IV dosing, pediatric medication dosing, and comprehensive knowledge on compounding medications.
Provide complete education on disease, including the use of medication to treat disease.
Sponsored Ad
Most Common Pharmacy Technician Classes
Many pharmacy programs offer a broad range of classes, providing a strong foundation in basic knowledge necessary to succeed in a career in the pharmacy services.
Here is a sampling of the classes that you should search for when reviewing pharmacy technician programs.
Medical Terminology – Every pharmacy technician will need to have a solid background in medical technology. This class will include basic information about terms commonly used in the healthcare system and those terms more commonly applied to the pharmacy setting.
Pharmacy Law and Ethics – This class teaches the laws that underlie how pharmacies may dispense medications, and the ethical standards that pharmacists and other pharmacy staff must adhere to.
Anatomy and Physiology – Most pharmacy technology curriculums include an introductory class to anatomy and physiology. This includes an explanation of the human body, including how the various systems of the body work, including the respiratory, lymphatic, urinary, and endocrine system. This is important to understand when dispensing medications.
Pharmacy Technology: Compounding – Most schools require a compounding course. These courses teach how to prepare medications for long-term use and for intravenous application. Other instruction may include hospice, mail order and nuclear pharmacy application.
First Aid/CPR – Often pharmacy schools require advance cardiac life support and CPR. This is common as many students must understand how to apply CPR and first aid practices as pharmacies are often responsible for providing services including flu shots or other assistance involving first aid or CPR.
Dosage – Dose calculation is a critical component of any pharmacology or pharmacy course. It is impossible to become certified without understanding how to calculate proper dosage. Classes include information on basic math, metric units, and the abbreviations pharmacy technicians will need to learn in order to dispense medication appropriately.
Many programs also require basic classes in computers, keyboarding, mathematics, and sometimes classes in psychology if you plan to apply for an Associate's degree, as opposed to a Certificate as a pharmacy technician.
If you already have some college credits, or classes in biology, mathematics, or chemistry or related classes, you can typically apply these credits toward your certificate or associate in pharmacy technician.