According to the Bureau of Labor Statistics, the median average pay for a pharmacy technician is $30,430 per year or $14.63 per hour. Answering the question of how much do pharmacy technicians make varies depending on many factors.
These factors may include where you live or the type of certification that you have, and the years of experience you have as a pharmacy technician.
Generally, the salaries for pharmacy technicians range from $20,580 or $9.89 to $42,400 or $20.38.
Pharmacy Tech Salary Based on Location
Many components influence a pharmacy technician salary, including location. Pharmacy technicians that work for large, private or well-funded hospitals generally have larger salaries than techs that work for small independently owned pharmacies.

Pharmacy techs working in smaller cities may also have smaller salaries. This is not always, but often true. Geographic location may also influence salary. Small, rural pharmacy technicians are likely to make less than techs working in larger, urban cities.
The BLS reports that pharmacy techs working in department stores and other general merchandise locations make the least, compared with techs working in state, local and private hospitals.
Generally pharmacy technicians working in these environments make the most, followed by those working in grocery stores and then independent drug stores.
Other ways to increase your salary may include working for an all-night pharmacy, which may offer a shift-differential.
Top paying pharmacy tech jobs are typically found along the West coast, although some are available along the East Coast. There are many average paying pharmacy technician jobs available in the Midwest.
California has a high demand for pharmacy technicians, which could account for the increased salary rates along the West Coast. Part of this may be attributed to higher population rates, as well.
Top paying states for pharmacy technicians include:
California
Washington
Alaska
Texas
New York
Hawaii
Each of these regions offers positions paying between $30,000 and $40,000+ for qualified pharmacy technicians.
Many of the positions available are in outpatient care centers, in hospitals, or in research facilities. Universities that conduct research and offer outpatient services also offer good paying jobs to pharmacy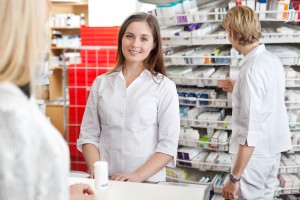 technicians.
The regions of the country that pay the least generally are less densely populated regions, including rural areas in the Midwest where the demand for healthcare services may not be as great. The average salary for pharmacy technicians in regions like this is between $21,000 and $28,000 per year.
The cost of living in these areas is also much less, however than the cost of living along the coast and in major metropolitan areas.
Thus, it really may not matter that the salary for pharmacy technicians in these areas is less than what it is in other major metropolitan areas.
Pharmacy Tech Salary Based on Education and Experience
The job outlook and how much do pharmacy technicians make is expected to be exceptional through 2020, particularly for techs with formal training and with experience working in a retail setting. This includes those working in drug stores or grocery stores.
Some retail outlets and drug stores offer in-house training, but the pay rate for in-house techs with little or no formal training is typically much less than for pharmacy techs with a certificate from an accredited institution.
You may start off with a pay rate of $9-12/hour with no formal training as a pharmacy technician. Formal training is a big part of how much do pharmacy technicians make in a year.
Sponsored Ad
Most drugstores prefer at least 1 year experience in a healthcare setting, or hands on experience in retail or working with medications, or in medication administration. Recent graduates from a formal training program are more likely to receive closer to $10/hour, while individuals with 10-15 years of experience will receive closer to $20/hour.
Most new graduates find positions in retail centers or grocery stores. Pharmacy technicians with more experience find positions in outpatient care centers or in hospitals more often, with salaries closer to the top 10 percent of the industry standard.
The difference in salary between the top paying position in a retail outlet and hospital pharmacy can be a $10,000 difference, or the difference between $30,000 and $40,000 per year.