Do you enjoy helping people who need assistance with medical issues? Would you like to play an important role in helping people to recover from an illness and/or disability by providing quality patient services?
How much would you enjoy interacting and talking to people from all walks of life on a daily basis?
You can have a career as an allied health professional whereby you can become employed, depending on the state you live in, with only a high school diploma or post-secondary training in a pharmacy technology program lasting between 6 months to 2 years.
Learn how to become a pharmacy technician and you'll be on your way!
As a Pharmacy Technician you will provide a valuable service in your community, feel pride and self-satisfaction that you are helping people, all while working in a field that is in high demand.
If you are well-organized, responsible, detail-oriented and responsive – a rewarding career as a pharmacy technician is awaiting you!
What is a Pharmacy Technician?
Pharmacy technicians, also known as pharmaceutical technicians or pharmacy techs, are health care workers who assist licensed pharmacists to perform pharmacy-related duties. These duties include:
Receiving and dispensing medication to fill a prescription
Counting pills/tablets or measuring proper amounts of medication for prescriptions
Labeling and packaging prescription bottles
Processing claims for medical insurance
Ordering pharmaceutical supplies
Discussing requests for prescriptions with doctors and insurance companies
Performing administrative tasks, such as stocking shelves for inventory, cleaning equipment, maintaining profiles of patients and answering telephones
Pharmacy techs work in a variety of settings including store pharmacies (i.e. in retail chains, groceries and drugstores), hospital pharmacies, nursing homes, long-term care facilities, pharmaceutical manufacturers and third-party insurance companies.
Sponsored Ad
How to Become a Pharmacy Technician
Regulations for becoming a pharmaceutical technician vary by the state you live in. Some states will require you to have successfully complete a secondary education program for pharmaceutical training and/or passed an examination for certification.
Select your home state below by using the map or the list to understand the requirements for becoming a pharmacy tech so that you can get started on your career quickly.



Working Conditions for Pharmacy Techs
Pharmacies and laboratories provide working environments that are well constructed, organized and clean to help you perform your job efficiently.  The work schedules for pharmacy techs depend upon where you are working.
A pharmacy, for example, may be open 24 hour a day, therefore you may be scheduled to work nights or weekends to provide support. Hospitals typically are open 24 hours per days and can provide various shift opportunities.
You'll likely be able to work 40 hours or more per week routinely.
You should have proficient computer skills in order to maintain patient records, print prescription labels and perform research.
You should also be able to understand pharmaceutical and medical definitions, follow oral and written instructions precisely, move and lift heavy boxes of supplies as needed, repeat tasks that require routine procedures.
Understand that this career field will require you to endure long periods of standing.
How to Get Training
On-the-job training is how many pharmacy technicians learn their job. Others choose to attend a training program that is specific for pharmaceuticals. Upon completion of the program you will earn a certificate to indicate achievement.
Some training programs will also include externships as a part of their education to provide practical experience before they begin their career.
Training programs typically last between 6 months and 2 years. If you choose to attend a formal program, look for one that is accredited by an agency such as the American Society of Health-System Pharmacists (ASHP).
Do I Need Certification?
Earning your certification provides you an advantage over others when applying for a job. Many employers will require you to be certified, although the state you live in may or may not require certification.
Please click on the map above to determine if your state requires certification.
There are two main organizations in the United States that offer pharmacy technician certification, these include:
Completion of a formal training program will prepare you to pass the exam, thereby earning you the designation of Certified Pharmacy Technician (CPhT).
By earning your certification, you will have a credential that proves you have competency as a pharmaceutical technician with the required skills and knowledge it takes to perform your job accurately.
Even if certification is not required by your home state, by achieving this credential, you'll most likely find a job faster, be more competitive with your peers, and increase your earnings potential. Check out this article on tips on passing the PTCB exam.
Where Can I Find a Job?
There are various places to work as a pharmaceutical technician. As mentioned above, employers include pharmacies within hospitals and stores (i.e. in retail chains, groceries and drugstores), pharmaceutical manufacturers, nursing homes, long-term care facilities and third-party insurance companies.
A high percentage of techs are working in store pharmacies and drugstores.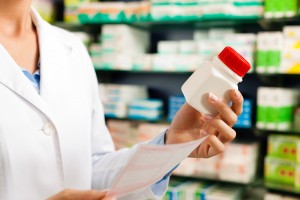 You may also find employment with the one of the branches of the US military. According to the Bureau of Labor Statistics (BLS), prospects for employment are excellent – especially if you have completed formal training.
Between 2010 and 2020, this career field has projected growth of 32%, which is faster than all other occupations averaging at 14%.
What is the Difference between a Pharmacy Tech and a Pharmacist?
It is important to understand the differences between pharmacists and pharmacy technicians. The latter works only under the direction of the pharmacist. Pharmacists are the experts in medication.
Providing advice to doctors and various health practitioners about medication in terms of dosage, side-effects, interactions and selection – pharmacists are required to understand all physical, biological and chemical properties of drugs. They work to provide the highest possible outcome in the well-being of patients, balancing it with minimal associated risks.
A steep learning curve is necessary to become a pharmacist. At least six years of study post-secondary in addition to passing your state's board of pharmacy exam is required. This journey typically includes two years of undergraduate education, then earning a passing score on the PCAT (Pharmacy college admission test).
The next step is to go to a pharmacy program for four years to earn a Doctor of Pharmacy (Pharm.D.) degree. The Pharm.D. program involves a series of rotations in a variety of pharmaceutical settings for practical experience.
Pharmacy techs on the other hand have a much shorter and simpler route to earning the requirements to enter the profession. Having a high school diploma or GED, and either on-the-job training or attending a program lasting no longer than 2 years is the most that is required.
Getting you certification as mentioned above will improve your chances and future career prospects.
Work wise, techs provide assistance to the pharmacists to measure, count, mix, and label prescription as well as perform administrative tasks such as answering telephone calls and ordering supplies. T
hey do not provide advice to the patients on medication regarding dosage, alternatives and possible side-effects. Pharmacists handle these duties that require consultation with patients and medical professionals.
What Can I Expect to Earn?
The average salary was approximately $30,430 annually for a pharmaceutical technician in 2012, according to the BLS.
Highest paid tend to live in the states of California and Washington, earning an average between $41,000 and $48,000 per year.
Other top paying states include Washington D.C., Alaska, and Hawaii.
What Are the Benefits?
If you have a strong interest in the healthcare field, this career is an excellent starting point! Learning and understanding the various types of medications will go a long way for you in any other path you may decide to take beyond the pharmacy industry.
In addition, it is a great launching pad to become a pharmacist, doctor, or other medical professional.
With the relatively low requirements for becoming a pharmacy technician, lots of job opportunities throughout the country, flexible work schedules, helping your community – an excellent opportunity awaits you as a pharmacy technician!
Continue reading more to learn how to become a pharmacy technician and start on your way to a great career.